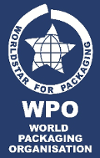 Competition WorldStar Packaging Award
WorldStar Packaging Awards je prestižní globální soutěž o nejlepší obaly světa. V této uznávané obalové soutěži oceňují porotci obaly, které ve své kategorii vyčnívají nad ostatní nejen inovací a provedením, ale jsou zde posuzovány také ochrana a uchování obsahu, snadná manipulace, snadné plnění, otevírání a uzavírání, ekonomika výroby, vliv na životní prostředí, adaptace na místní podmínky, prezentace značky.
Title of exhibit:

Transport packaging for car bumpers "BOOMerang"
Applicant:

Unipap a.s.

Websites:http://www.unipap.cz

Packaging kit "BOOMerang" is made from combination of two different parts of corrugated cardboard. Variation of these two parts allows to use this packaging for more than six different types of car bumpers.

Cover gives to the quite fragile bumper needed shape support which makes it both the cover and shape holder.

The "BOOMerang" is unique as it's usage variability as the possibility of stacking up without need to use pallets which is easier for manipulation and it saves space in the warehouse.

In compare with origin packaging this solution brings to our Customer shorter time for assembling, less stock of packaging materials and mainly significant savings of logistic costs.

engineering společnosti Unipap a.s.