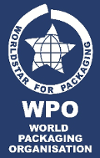 Competition WorldStar Packaging Award
WorldStar Packaging Awards je prestižní globální soutěž o nejlepší obaly světa. V této uznávané obalové soutěži oceňují porotci obaly, které ve své kategorii vyčnívají nad ostatní nejen inovací a provedením, ale jsou zde posuzovány také ochrana a uchování obsahu, snadná manipulace, snadné plnění, otevírání a uzavírání, ekonomika výroby, vliv na životní prostředí, adaptace na místní podmínky, prezentace značky.
Title of exhibit:

Package for the rear cover
Applicant:

Škoda Auto a.s.

Websites:http://www.skoda-auto.cz/

Thanks to this packaging, which copy the shape of the part and allows the part to be manipulated and transported in the vertical position, we achieved the triple load effectivity of the transport pallet and the associated cost reduction compared to previously used cubic packaging where the parts were placed horizontally.

Other advantages are, less time to pack the parts into this packaging and higher protection of the KTL surface treatment - so-called cataphoresis.

The packaging consists of a casing and two pairs of internal corrugated cardboard fixings.

The VW logo is a symbol of the warranty and quality of Skoda Genuine Parts.

THIMM Packaging Systems k.s.